Nautica Soundview Condominiums
At Hewitt & Grand in Everett, WA

Location and Parking
The Nautica Soundview Condominiums are located at the corner of Hewitt and Grand Avenues in downtown Everett, Washington. The Building A address is 2824 Grand Avenue and the Building B address is 2818 Grand Avenue. The Main Entrance is on Grand in between the two buildings.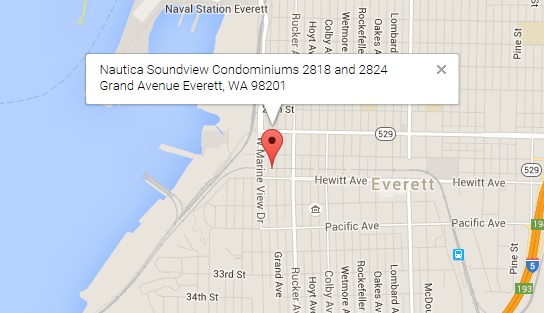 Parking around the building is limited to 90 minutes Monday through Friday from 8 am to 6 pm. There are no time restrictions on Saturday and Sunday. Grand Avenue between Hewitt and California Avenues is carved into the Everett Central Business District for parking enforcement. That means that re-parking (moving to another space within the same block) is not allowed during the week. The parking enforcement rules may be found at https://www.everettwa.gov/570/Parking-Enforcement
Motorcycles are not permitted to park on the sidewalks.